Future IT Summit 2021 will be held on March 22, 2021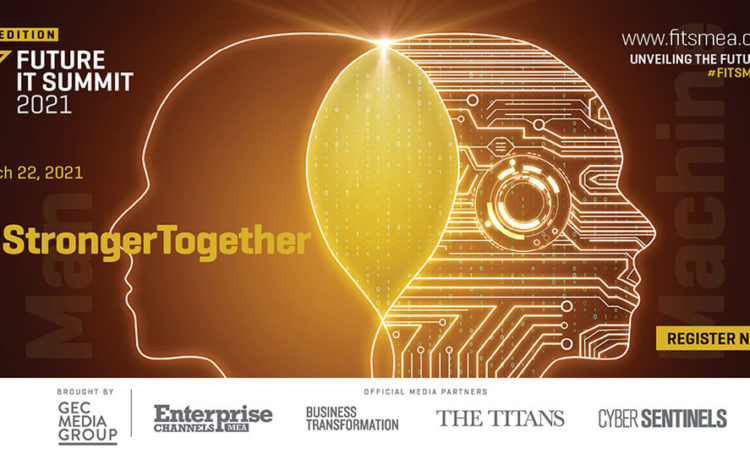 GCC's most awaited and the largest gathering of IT leaders and decision makers, Future IT Summit, is back as a hybrid event. The in-person event will be held in Sharjah, UAE in the presence of key government and private sector leaders and the virtual session will be held in real time on the GCF Convention Center platform, both on March 22, 2021. The theme of the seventh edition of FITS is #StrongerTogether. It is in-line with the new normal which emerged in 2020 and saw the convergence of humans and machines in a way which had never happened before.
Technology ruled 2020 as more and more organisations moved towards a remote and hybrid workforce model. The IT industry, led by the CIOs and solution providers, has been a testament of the fact that agility, adaptation and transformation are the only way forward.
FITS 2021 will showcase leading players in the arena of the digital and hybrid workforce and how their solutions can create a winning business strategy for the end customers. The summit will also have leading CIOs presenting their business outlook for 2021 and beyond and thus setting the stage for the IT vendors and partners. This extravaganza will be a platform for networking, branding, lead generation, meetings, product demos, training sessions, solution showcase, keynotes and much more.
Not just that, FITS 2021 will focus on recognising each individual's efforts through Catalysts Awards 2021. The awards honour trailblazers and trendsetters of the industry through two categories, Catalyst Marketing and Catalyst CIO.
Well, FITS 2021 has a bit for everyone. The event will also see a unique recognition for the Top Ten Happy IT Companies To Work For where we don't talk about which company is the best but we focus on the happiness factor of the employees.
FITS 2021 is all set to welcome over 5,000 decision makers physically and virtually, including CIOs, IT managers, IT heads, VP and directors of IT, CEOs, CTOs, CDO and CHRO from Middle East, Africa, SEA, Europe and US markets.
To register, click here.
About FITS
Currently in its seventh year, FITS has been touted as the most successful event by the key industry players and end users. The event positions itself as a knowledge-based platform for the senior business and technology decision makers in the GCC region to bring their best practices to the table. To know more visit https://www.fitsmea.com
About Global CIO Forum
The role of a CIO is one of the most critical one in today's business and industry. Today, CIOs hold the future of innovation, productivity and competitiveness in their hands. At the Global CIO Forum, we not only provide our members with an exchange forum for best IT leadership strategies and practices to enhance business results, but we are also developing a strong voice to ensure that CIOs are represented at key industry and government decision tables. In other words: Integrate. Influence. Impact.
The Global CIO Forum's mission is to represents IT Executives and CIOs globally. Currently working in META region and with expansion plans globally, the Global CIO Forum is a non-profit community of CIOs and IT leaders whose mission is to facilitate networking, sharing of best practices and executive development, and to collaborate on issues faced by the CIOs and IT Executives. To know more visit https://globalcioforum.com